sc-todays-date
A small Swedish town has been rocked by a bizarre crime involving pig masks, ***, Pokemon and lasers.
The tiny town of Insjön, with just 2,000 inhabitants, became the talk of the nation when two teenagers playing Pokemon Go were attacked with lasers by a pair of people wearing pig masks, who were later caught holding up traffic as they had *** by a waterwheel.
"They wore rubber masks depicting pigs' heads and they started screaming and waving a green laser," one of the victims told newspaper Dalarnas Tidningar.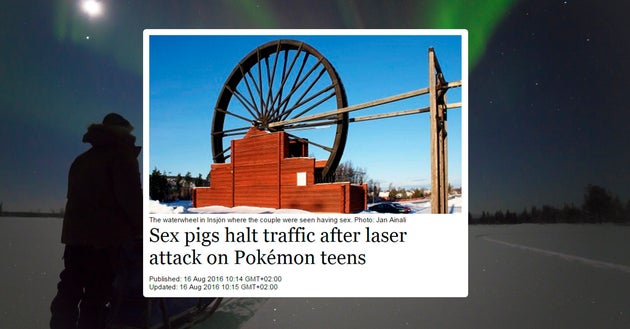 Johnathan Ampersand Esper/Aurora/TheLocal.se
The same pair of unidentified laser-wielding mask-wearers, who also wore matching t-shirts emblazoned with the words "king" and "queen", were spotted later that day engaging in sexual *********** by the town's historic waterwheel.
Motorists found themselves stuck in traffic jams as people slowed down or stopped their cars to look at the masked couple's public porking.
Police are currently hoping to find the culprits as public *** is a criminal act and lasers can cause serious harm.