sc-todays-date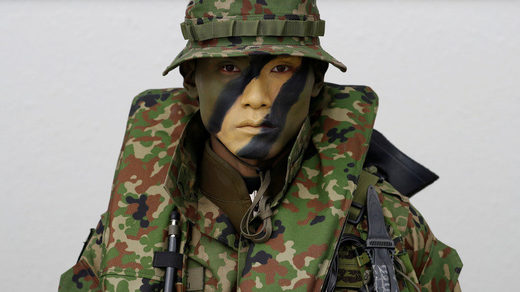 © Issei Kato / Reuters
Japan activated its first marine unit since the Second World War in its latest move to strengthen its military defense capabilities. The development appears at odds with Japan's constitution, which outlaws war.
On Saturday, 1,500 members of the Amphibious Rapid Deployment Brigade (ARDB) were activated at a ceremony at a military base in Sasebo on the island of Kyushu. They took part in a mock exercise to take back an island from invaders, with some US Marines based in Japan also involved.
"The Amphibious Rapid Deployment Brigade will show to the international society our firm resolve to defend our islands," a senior defense ministry official said during the ceremony, Mainichi reports.
"Given the increasingly difficult defense and security situation surrounding Japan, defense of our islands has become a critical mandate," Vice Defense Minister Tomohiro Yamamoto said. The marines are the latest addition to Japan's defense, which has been increasing its military hardware in an effort to deter China. The ARDB unit will primarily defend the country's remote southwest islands. The new force contains 2,100 marines in total, with this number expected to rise to 3,000.
After World War II, a clause was written into Japan's constitution which outlawed war and stated that armed forces with the potential to wage war would not be maintained. Japan's military is called the Japan Ground Self Defense Force.
Japanese Prime Minister Shinzo Abe in March said he intends to revise the country's post-war constitution. "The time has finally come to tackle constitutional revision, which has been a task since the founding of the party," he said. "Let's stipulate the Self-Defense Forces and put an end to a controversy about violation of the constitution."
The country's increased militarism has sparked protests from residents already unhappy with the presence of US military bases in the country.
China, Japan, and South Korea dispute territorial ownership of areas in the East China Sea. China has laid claim to Japan-controlled Senkaku islets in the South China Sea, which China calls Diaoyu. Chinese Coast Guard vessels have entered the waters around the islets on a number of occasions, increasing tensions between the two countries.
China is also the biggest fish in the much-contested South China Sea, an area which many countries have conflicting territorial claims to both islands and the sea. The area is a global trade route and other countries want it to remain as international waters. The US and others conduct 'freedom of navigation' exercises in the area as a result of this.